Hot Stone massage is a natural therapy that uses smooth, flat, and heated rocks which are positioned at key points on the body.
Once the stones have heated sufficiently, some are placed onto specific points on the body (such as the back, hands, etc.) and others are held by the massage therapist and used to work the muscles. to maximize the therapeutic benefit such as muscle relaxation, pain relief, improved circulation, helps ease stress.
Benefits of Hot Stone Massage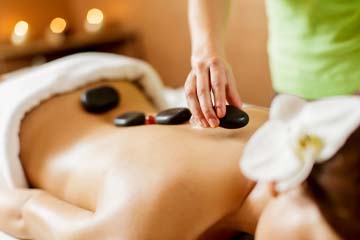 Reduces Stress
Increased joint flexibility
Helps alleviates pain
Promotes better sleep
Reduces anxiety
Hot stone therapy is thought to have originated in China thousands of years ago and since then been practiced in many different countries, including the United States.